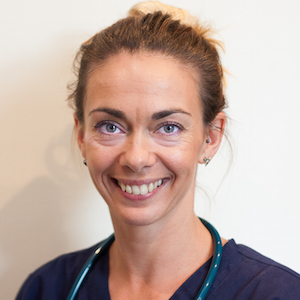 Monika Grela DVM MRCVS GPCert (FelP) – Veterinary Surgeon
I have been working at Broadway Veterinary Clinic since October 2013.
Before becoming a member of the Broadway family I worked in a small animal hospital in Cambridgeshire for 5 years. I am a GP Feline Practice certificate holder and in early 2023 I completed an Advanced Diploma in Applied Feline Behaviour to be able to look after both the physical and emotional health of our feline patients.
I do offer behaviour consultations for cats and currently I am working towards becoming a veterinary behaviourist.
I take an active part in all aspects of veterinary medicine but feline well-being, especially of senior cats is my special interest.
Outside of work I am most likely to be found rock climbing or attending a live music gig.
I am a servant to a lovely rescue cat Kora.
I am happy to perform consultations in Polish, but all appointments and enquires must be made through the reception in English.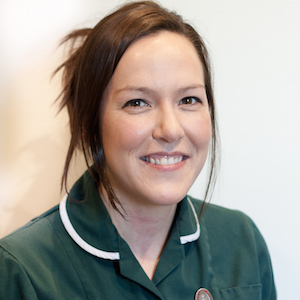 Joanne Hall RVN Veterinary Nurse and Practice Manager
I started working as a trainee nurse in 2001 and I qualified in 2008. I consider myself lucky to have worked alongside a number of very experienced and specialist colleagues and I really enjoyed absorbing information from them and using it to better my own nursing.
I joined Broadway Vets in 2012 and work primarily as the practice manager, ensuring the smooth running of the clinic and taking care of everything "behind the scenes" to make sure the other staff can be fully committed to our patients and clients.
I am mum to rabbits, guinea pigs and a small human who all keep me very busy. I also have a volunteer role within Surrey Social Services.  With any spare time, I enjoy reading and walking in nature.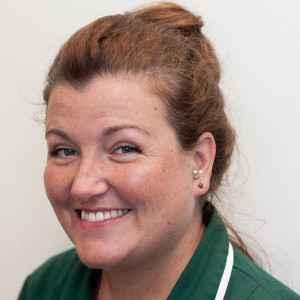 Donna Piper RVN – Veterinary Nurse
I have been a qualified veterinary nurse since 2002 and have been at Broadway Vets since 2009.
I enjoy nurse consults and reception with some administration work in the middle.
My cats Rocco and Dora rule the roost at home, keeping my dog Milo firmly in his place.
I love the team I work with at Broadway, we all share an ethos that enables us to provide the care that our clients and patients trust us to give.
Kate Cole RVN
I joined the practice in June 2021 and work part-time.
I started nursing in 1999 and have been qualified since 2004. I then went on to be a clinical coach and enjoy sharing my skills and knowledge with all of my students.
Over the years I have worked in small animal, large animal, emergency and referral clinics and particularly enjoy surgical nursing and emergency triage.
If there is a dog in the building I will appear armed with treats and cuddles.
Lea Keyter RVN
Originally hailing from Cape Town, South Africa, I have been working as a qualified veterinary nurse at various multidiscipline practices around London since 2006.
I have been locuming on & off at Broadway Vets since 2018, joining the team in 2023 as a permanent member of staff.
Usually found in the theatre & caring for our hospitalised patients, I also enjoy down-time with friends and cuddles with the cats I regularly pet-sit.
Madalina Moruz
I started working as a receptionist at the practice in April 2021 as a new venture towards a profession in the veterinary field.
My love for animals made me take the opportunity offered and I started studying as a VCA with the practice's help.
Besides working at the practice as a receptionist/VCA student, in my spare time I can be found pet-sitting.
My hobbies include learning guitar, zumba and napping with cats.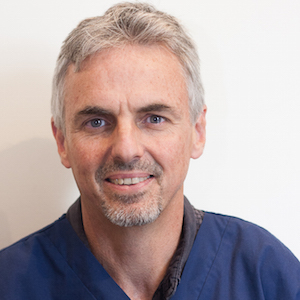 Kevin Queenan BSc BVSc MSc MRCVS Veterinary Surgeon and joint practice owner.
Together with my wife, Retha, we bought Broadway Veterinary Clinic in 2000. We aimed to offer an independent, personal, friendly, yet professional first opinion service to the local community.
I worked as the clinical director and manager until 2013. I then handed over the veterinary responsibilities to Monika, and the clinic management to Joanne, to allow me to return to university and to complete an MSc and PhD. I currently work part-time as a university researcher, but I still keep a hand on the management reins of the clinic, and from time to time help out with some clinical work.
The clinic continues to stay true to its original aim and we are very grateful for the loyal team of staff who deliver on this day to day
Monika Grela DVM MRCVS GPCert (FelP) – Veterinary Surgeon

I have been working at Broadway Veterinary Clinic since October 2013.

Before becoming a member of the Broadway family I worked in a small animal hospital in Cambridgeshire for 5 years. I am a GP Feline Practice certificate holder and in early 2023 I completed an Advanced Diploma in Applied Feline Behaviour to be able to look after both the physical and emotional health of our feline patients.

I do offer behaviour consultations for cats and currently I am working towards becoming a veterinary behaviourist.

I take an active part in all aspects of veterinary medicine but feline well-being, especially of senior cats is my special interest.

Outside of work I am most likely to be found rock climbing or attending a live music gig.

I am a servant to a lovely rescue cat Kora.

I am happy to perform consultations in Polish, but all appointments and enquires must be made through the reception in English.

Joanne Hall RVN Veterinary Nurse and Practice Manager

I started working as a trainee nurse in 2001 and I qualified in 2008. I consider myself lucky to have worked alongside a number of very experienced and specialist colleagues and I really enjoyed absorbing information from them and using it to better my own nursing.

I joined Broadway Vets in 2012 and work primarily as the practice manager, ensuring the smooth running of the clinic and taking care of everything "behind the scenes" to make sure the other staff can be fully committed to our patients and clients.

I am mum to rabbits, guinea pigs and a small human who all keep me very busy. I also have a volunteer role within Surrey Social Services.  With any spare time, I enjoy reading and walking in nature.

Donna Piper RVN – Veterinary Nurse

I have been a qualified veterinary nurse since 2002 and have been at Broadway Vets since 2009.

I enjoy nurse consults and reception with some administration work in the middle.

My cats Rocco and Dora rule the roost at home, keeping my dog Milo firmly in his place.

I love the team I work with at Broadway, we all share an ethos that enables us to provide the care that our clients and patients trust us to give.

Kate Cole RVN

I joined the practice in June 2021 and work part-time.

I started nursing in 1999 and have been qualified since 2004. I then went on to be a clinical coach and enjoy sharing my skills and knowledge with all of my students.

Over the years I have worked in small animal, large animal, emergency and referral clinics and particularly enjoy surgical nursing and emergency triage.

If there is a dog in the building I will appear armed with treats and cuddles.

Lea Keyter RVN

Originally hailing from Cape Town, South Africa, I have been working as a qualified veterinary nurse at various multidiscipline practices around London since 2006.

I have been locuming on & off at Broadway Vets since 2018, joining the team in 2023 as a permanent member of staff.

Usually found in the theatre & caring for our hospitalised patients, I also enjoy down-time with friends and cuddles with the cats I regularly pet-sit.

Madalina Moruz

I started working as a receptionist at the practice in April 2021 as a new venture towards a profession in the veterinary field.

My love for animals made me take the opportunity offered and I started studying as a VCA with the practice's help.

Besides working at the practice as a receptionist/VCA student, in my spare time I can be found pet-sitting.

My hobbies include learning guitar, zumba and napping with cats.

Kevin Queenan BSc BVSc MSc MRCVS Veterinary Surgeon and joint practice owner.

Together with my wife, Retha, we bought Broadway Veterinary Clinic in 2000. We aimed to offer an independent, personal, friendly, yet professional first opinion service to the local community.

I worked as the clinical director and manager until 2013. I then handed over the veterinary responsibilities to Monika, and the clinic management to Joanne, to allow me to return to university and to complete an MSc and PhD. I currently work part-time as a university researcher, but I still keep a hand on the management reins of the clinic, and from time to time help out with some clinical work.

The clinic continues to stay true to its original aim and we are very grateful for the loyal team of staff who deliver on this day to day